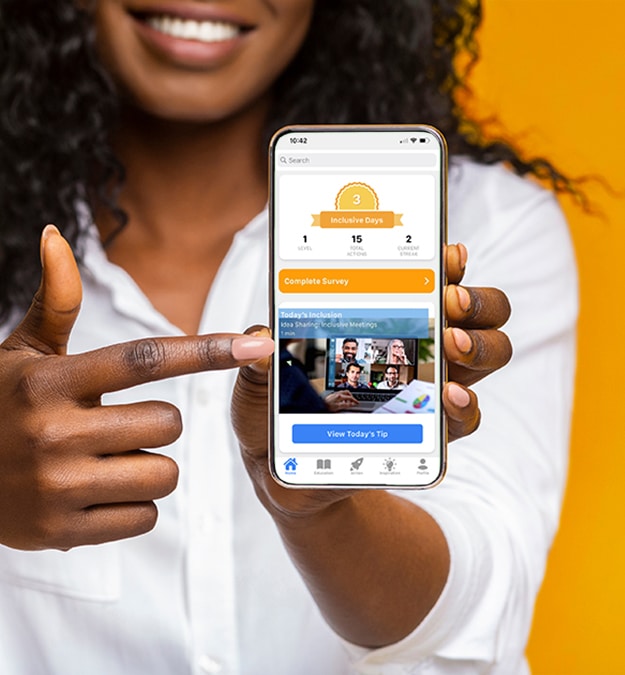 How to Drive Everyday Inclusion
Give your employees & managers the tool they need, at their fingertips, in real-time.
Engage employees in diversity and inclusion.
Every day.
Everyday Inclusion® puts the business of belonging in the hands of everyone in your organization so they can make a difference every day:
Daily inclusion nudges. Bite-sized, on demand, real world and on the go DEI tips and tools delivered right to employee's phones. From your C-suite to your newest employee.
Powerful search functionality. Search the app and get research-based, actionable D&I information that's needed, right when you need it.
People Powered Predictive Data. It's easy to measure diversity, hard to measure inclusion. But if you can't measure it, how can you measurably improve it? Inclusion pulse surveys measure how much people feel like they belong, a key driver of retention, right from the app.
Simple rollout, highly scalable. All that's needed to get started is downloading the app. There's nothing to install on your systems, and we don't get behind security firewalls.
With Everyday Inclusion, employees have the inclusion resources and daily practices they need at their fingertips. You have real-time data that allows your company to scale best practices, get ahead of retention issues and create a workplace where everyone feels they belong and can thrive, all which drive results and business performance.
Request a demo today.